The Energy Medicine Handout Bank
About the Bank Featured Articles Latest Articles All Articles

Energy Medicine
Case Histories
Innersource

Health Q & A's
from an
Energy Medicine
Perspective

View Free Issues
Energy Community Report

Download the First
Energy Medicine
Newsletter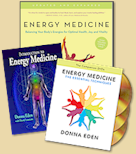 Energy Medicine Books & Videos
Innersource

Energy Medicine
Foundation Classes
Innersource
Program Details

Energy Medicine
Certification Program
Innersource

Energy Medicine
Practitioners
Innersource

Other Energy
Medicine Resources
Energy Medicine Directory

Energy Psychology
An Exciting New
Specialty within
Energy Medicine

Energy Psychology
Books & Videos

EMI Activities
in Behalf of
Energy Psychology

Energy Medicine
A Career
for the Future

Contribute
to The Energy Medicine Institute
ENERGY PSYCHOLOGY IN THE NEWS

The number of media reports about Energy Psychology has been growing.
Some of these stories are listed below, with links.

Field Methods: Research Shows Veterans Overcoming PTSD
Press Democrat: New Help for Troubled Vets
The Herald: Hands-On Treatment Offers Hope for Victims of Trauma
The Telegraph: Tapping Therapy: Curing Physical and Mental Problems
The Times: Move Over Freud   Energy Therapies May Be Just As Effective
Washington Post: Years Later, Healing the Wounds of a Stepfather's Abuse
Men's Style: The Energy Psychology Craze
Channel 10 TV News Australia: EFT Food Cravings Study Successful
Golfweek: Golfers Tap Into Psychology
New York Times: Oregon State One Win from a Second Title
Arkansas Democrat-Gazette: Healthcare Inequalities Assailed
The Edinburgh Evening News: Tapping Into the Latest Method of Healing
The View: Whoopi Goldberg gets Tapped for her Fear of Flying
Common Ground: Targeted Touch Taps Out Traumas
Life-Style Nigeria: Unveiling Great Minds Behind Energy Medicine / Psychology


One of EMI's major projects is to bring national attention and resources to Energy Psychology. Learn more about Energy Psychology and EMI's efforts:

Background

Energy Psychology Fact Sheet Energy Psychology Case Histories with Two Veterans with PTSD A Video Clip Showing Before Treatment and Post-Treatment Interviews with Four Veterans An Academic Paper on How Energy Psychology Works Summaries of 9 Academic Papers on Energy Psychology Assessing Energy Psychology Courses According to APA CE Criteria Energy Psychology in the News
---

Energy Medicine Institute Activities in Behalf of Energy Psychology

Bringing Energy Psychology to the Attention of Congress
Letter from 3 Congressmen Resulting from Visit
Second Visit to Washington
Challenging the American Psychological Association's Position on Energy Psychology
EMI Report on the APA's Position on Energy Psychology
Interview with EMI's Mental Health Coordinator about the APA's Position
Press Release on the APA's Position on Energy Psychology
Research on the Use of Energy Psychology in Treating PTSD
What You Can Do
---

Help the Energy Medicine Institute Support Better Treatment
for Veterans and Other Trauma Survivors

Home   Handout Bank   Energy Medicine Q & A's   Energy Community Report
Contribute to the Energy Medicine Institute    Energy Psychology
---

The Energy Medicine Institute
777 East Main Street  –  Ashland, OR 97520
(541) 482-1800
* ]]> *
www.energymed.org
Design, Development, Hosting, and Maintenance by The CyberSide & Co.
All contents copyright © The Energy Medicine Institute, 2001-2017. All rights reserved.