The Energy Medicine Handout Bank
About the Bank Featured Articles Latest Articles All Articles

Energy Medicine
Case Histories
Innersource

Health Q & A's
from an
Energy Medicine
Perspective

View Free Issues
Energy Community Report

Download the First
Energy Medicine
Newsletter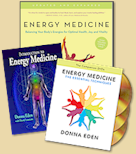 Energy Medicine Books & Videos
Innersource

Energy Medicine
Foundation Classes
Innersource
Program Details

Energy Medicine
Certification Program
Innersource

Energy Medicine
Practitioners
Innersource

Other Energy
Medicine Resources
Energy Medicine Directory

Energy Psychology
An Exciting New
Specialty within
Energy Medicine

Energy Psychology
Books & Videos

EMI Activities
in Behalf of
Energy Psychology

Energy Medicine
A Career
for the Future

Contribute
to The Energy Medicine Institute
ENERGY PSYCHOLOGY

ONE OF THE MOST EXCITING DEVELOPMENTS WITHIN ENERGY MEDICINE has been the application of the field's principles to emotional and psychological issues. This specialty is known as Energy Psychology. The theory behind it is simple:
Tapping on selected acupuncture points

While bringing to mind a stressful memory or trigger

Changes pathways in the brain that had caused an exaggerated emotional reaction
The results are rapid and lasting and appear to be more powerful than conventional treatments for serious conditions such as posttraumatic stress disorder (PTSD). This is of strong national interest as more than 300,000 returning veterans suffer with this debilitating condition.


Research on the Use of Energy Psychology in Treating PTSD


One of EMI's major projects is to bring national attention and resources to Energy Psychology. Learn more about Energy Psychology and EMI's efforts:

Background

Energy Psychology Fact Sheet Energy Psychology Case Histories with Two Veterans with PTSD A Video Clip Showing Before Treatment and Post-Treatment Interviews with Four Veterans An Academic Paper on How Energy Psychology Works Summaries of 9 Academic Papers on Energy Psychology Assessing Energy Psychology Courses According to APA CE Criteria Energy Psychology in the News
---

Energy Medicine Institute Activities in Behalf of Energy Psychology

Bringing Energy Psychology to the Attention of Congress
Letter from 3 Congressmen Resulting from Visit
Second Visit to Washington
Challenging the American Psychological Association's Position on Energy Psychology
EMI Report on the APA's Position on Energy Psychology
Interview with EMI's Mental Health Coordinator about the APA's Position
Press Release on the APA's Position on Energy Psychology
Research on the Use of Energy Psychology in Treating PTSD
What You Can Do
---

Help the Energy Medicine Institute Support Better Treatment
for Veterans and Other Trauma Survivors

Home   Handout Bank   Energy Medicine Q & A's   Energy Community Report
Contribute to the Energy Medicine Institute    Energy Psychology
---

The Energy Medicine Institute
777 East Main Street  –  Ashland, OR 97520
(541) 482-1800
* ]]> *
www.energymed.org
Design, Development, Hosting, and Maintenance by The CyberSide & Co.
All contents copyright © The Energy Medicine Institute, 2001-2017. All rights reserved.