The Energy Medicine Handout Bank
About the Bank Featured Articles Latest Articles All Articles

Energy Medicine
Case Histories
Innersource

Health Q & A's
from an
Energy Medicine
Perspective

View Free Issues
Energy Community Report

Download the First
Energy Medicine
Newsletter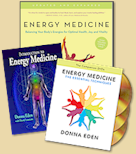 Energy Medicine Books & Videos
Innersource

Energy Medicine
Foundation Classes
Innersource
Program Details

Energy Medicine
Certification Program
Innersource

Energy Medicine
Practitioners
Innersource

Other Energy
Medicine Resources
Energy Medicine Directory

Energy Psychology
An Exciting New
Specialty within
Energy Medicine

Energy Psychology
Books & Videos

EMI Activities
in Behalf of
Energy Psychology

Energy Medicine
A Career
for the Future

Contribute
to The Energy Medicine Institute
THE ENERGY MEDICINE HANDOUT BANK
Featured Articles
Help Support This Service
A Beginner's Guide to Eden Energy Medicine 
by Donna Eden and David Feinstein, Ph.D.
A brief guide for those new to Energy Medicine, to help orient you and to direct you to a wealth of available resources, most of them free.
Printable .doc file 4 pages Author Information
An Energy Practitioner's Guide To Medical Emergencies
by Jeanne Cook, M.D., Donna Eden, David Feinstein, Ph.D.,
Jeff Harris, M.D., Vicki Matthews, N.D. A discussion of the approach to some of the common medical emergencies which may occur in the office, including both the first-response medical approach (e.g. CPR) and supportive energy methods. Printable .doc file 11 pages
An Introduction to Energy Psychology  by David Feinstein, Ph.D. "Energy Psychology and the Instant Phobia Cure" (based on an article from Psychotherapy Networker). Examines claims of "instant cures" within energy psychology by presenting case examples, theory, and research. An excellent introduction to the field, it includes a critical review by Jay Ephran, Ph.D., printed in Psychotherapy Networker, and the author's response. Printable .doc file ~ .pdf file 11 pages (.doc) Author Information
Energy Interventions for Working with Pain by Jeff Harris, M.D.
A collection of energy techniques for working with pain, drawn from Energy Medicine as well as other sources. Printable .doc file 10 pages
---
Disclaimers:
These materials are provided for informational purposes only. They should not be used as a substitute for professional consultation or treatment. The views expressed represent the authors' opinions and do not necessarily reflect the position of the Energy Medicine Institute. While all documents are posted in good faith, the accuracy, validity, effectiveness, completeness, or usefulness of any information herein, as with any publication, cannot be guaranteed. The Energy Medicine Institute accepts no responsibility or liability for the use or misuse of the information provided here. We strongly advise that you seek professional advice as appropriate before making any health decisions.
Help Support This Service: To help us continue to provide this and other services, please consider a voluntary contribution to the non-profit Energy  Medicine Institute. Suggested offering is $1 for each page downloaded, with an additional contribution if you are making multiple copies for a class.
Click here
to make a contribution to the Energy Medicine Institute.
New articles added regularly. Visit often.
Bookmark this page: Ctrl + D
Handout Bank:  About the Bank All Articles  Featured Articles  Latest Articles  Submit an Article
Home   Handout Bank   Energy Medicine Q & A's   Energy Community Report
Contribute to the Energy Medicine Institute    Energy Psychology
---

The Energy Medicine Institute
777 East Main Street  –  Ashland, OR 97520
(541) 482-1800
* ]]> *
www.energymed.org
Design, Development, Hosting, and Maintenance by The CyberSide & Co.
All contents copyright © The Energy Medicine Institute, 2001-2017. All rights reserved.