The Energy Medicine Handout Bank
About the Bank Featured Articles Latest Articles All Articles

Energy Medicine
Case Histories
Innersource

Health Q & A's
from an
Energy Medicine
Perspective

View Free Issues
Energy Community Report

Download the First
Energy Medicine
Newsletter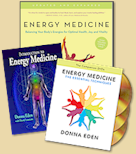 Energy Medicine Books & Videos
Innersource

Energy Medicine
Foundation Classes
Innersource
Program Details

Energy Medicine
Certification Program
Innersource

Energy Medicine
Practitioners
Innersource

Other Energy
Medicine Resources
Energy Medicine Directory

Energy Psychology
An Exciting New
Specialty within
Energy Medicine

Energy Psychology
Books & Videos

EMI Activities
in Behalf of
Energy Psychology

Energy Medicine
A Career
for the Future

Contribute
to The Energy Medicine Institute
THE ENERGY MEDICINE HANDOUT BANK
Instructions to Authors
Papers may be submitted via email to Julie Lappin, Handout Bank Moderator: * ]]> *
Attach the paper as a .doc or .txt file. Generally use 12-point Arial type, single spaced, one inch margins.
Under the title, place your name, any affiliation or contact information you wish to list, and under that, the copyright sign followed by the current year (e.g., © 2010).
If you have taken courses with Donna Eden, you are strongly encouraged to take advantage of www.EnergyMedicineDirectory.com. Listing is free and takes only a few minutes, requiring a photo, contact info, and a few words about your relationship with energy medicine. Clients frequently find practitioners through this site. If you join, when people click your name on the by-line of your Handout Bank article, it will link them to your page in the Directory.
Any standard style for listing references is fine. You may use color, but keep in mind that the user may print it in black and white. Because graphics take up so much space, please only use them when absolutely necessary and do not include logos or decorative images. Please place the following at the bottom of each page:
From the "Handout Bank" of the Energy Medicine Institute
www.energymed.org
Before submitting your paper, please be sure it has been proofread and reviewed by someone proficient with grammar and style. If your paper contains copyrighted figures or quoted text that exceeds 300 words, please do not submit it until you have obtained the original author's or publisher's written permission and included a notation in the paper such as "used with permission." Please look at The Emergency Guide (MS Word® .doc file) for a model of the format we would like you to use and put it into that form. We do not have staff to reformat papers.
The Energy Medicine Institute retains authority to decide which papers will be selected, to edit papers before posting them, and to remove papers from the Bank. The author will be asked for approval of content but not style edits.
Handout Bank:  About the Bank All Articles  Featured Articles  Latest Articles  Submit an Article
Home   Handout Bank   Energy Medicine Q & A's   Energy Community Report
Contribute to the Energy Medicine Institute    Energy Psychology
---

The Energy Medicine Institute
777 East Main Street  –  Ashland, OR 97520
(541) 482-1800
* ]]> *
www.energymed.org
Design, Development, Hosting, and Maintenance by The CyberSide & Co.
All contents copyright © The Energy Medicine Institute, 2001-2017. All rights reserved.