The Energy Medicine Handout Bank
About the Bank Featured Articles Latest Articles All Articles

Energy Medicine
Case Histories
Innersource

Health Q & A's
from an
Energy Medicine
Perspective

View Free Issues
Energy Community Report

Download the First
Energy Medicine
Newsletter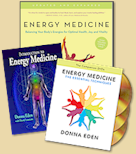 Energy Medicine Books & Videos
Innersource

Energy Medicine
Foundation Classes
Innersource
Program Details

Energy Medicine
Certification Program
Innersource

Energy Medicine
Practitioners
Innersource

Other Energy
Medicine Resources
Energy Medicine Directory

Energy Psychology
An Exciting New
Specialty within
Energy Medicine

Energy Psychology
Books & Videos

EMI Activities
in Behalf of
Energy Psychology

Energy Medicine
A Career
for the Future

Contribute
to The Energy Medicine Institute
The Energy Medicine Institute Newsletter

This inaugural issue of the Energy Medicine Institute, dating back to Spring 2001, is a classic with a wealth of information that is still as relevant as it was when it was first published.
The Newsletter has evolved into the Energy e-letter, published by Innersource but with continued support from EMI. EMI no longer has the membership category described in the 2001 Newsletter — anyone may subscribe to the Energy e-letter for free.
We hope you will enjoy our first issue dating back to when we were just beginning to move energy medicine into the world. As you can understand, many of the e-mail links will no longer be current.

Download the first EMI newsletter here…

This file is 3 MB and may take 10-15+ minutes to download if using a modem. Please be patient!

Free Adobe Acrobat Reader is needed to view
the newsletter. It may already be installed on
your computer. If not, it can be downloaded here »
You will be able to read the Newsletter on screen in full color or
print it out in color or in black and white.
If you experience problems downloading or viewing
the Newsletter file in Acrobat … Click Here
Home   Handout Bank   Energy Medicine Q & A's   Energy Community Report
Contribute to the Energy Medicine Institute    Energy Psychology
---

The Energy Medicine Institute
777 East Main Street  –  Ashland, OR 97520
(541) 482-1800
* ]]> *
www.energymed.org
Design, Development, Hosting, and Maintenance by The CyberSide & Co.
All contents copyright © The Energy Medicine Institute, 2001-2017. All rights reserved.