The Energy Medicine Handout Bank
About the Bank Featured Articles Latest Articles All Articles

Energy Medicine
Case Histories
Innersource

Health Q & A's
from an
Energy Medicine
Perspective

View Free Issues
Energy Community Report

Download the First
Energy Medicine
Newsletter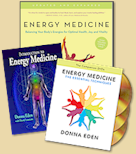 Energy Medicine Books & Videos
Innersource

Energy Medicine
Foundation Classes
Innersource
Program Details

Energy Medicine
Certification Program
Innersource

Energy Medicine
Practitioners
Innersource

Other Energy
Medicine Resources
Energy Medicine Directory

Energy Psychology
An Exciting New
Specialty within
Energy Medicine

Energy Psychology
Books & Videos

EMI Activities
in Behalf of
Energy Psychology

Energy Medicine
A Career
for the Future

Contribute
to The Energy Medicine Institute
THE ENERGY MEDICINE HANDOUT BANK
of the Energy Medicine Institute
Julie Lappin, Moderator
Purpose: The Handout Bank is a free resource designed to
help make energy medicine more widely accessible
to aid those who are teaching classes or providing services in energy medicine
to create a high quality archive of principles and methods along with model handouts for clients, classes, and trainings
It is designed for the energy medicine practitioner, but others interested in the field may find it a valuable resource as well.
Help Support This Service: To help us continue to provide this and other services, please consider a voluntary contribution to the non-profit Energy  Medicine Institute. Suggested offering is $1 for each page downloaded, with an additional contribution if you are making multiple copies for a class.
Click here
to make a contribution to the Energy Medicine Institute.
New articles added regularly. Visit often.
Bookmark this page: Ctrl + D
To Submit a Paper: Click here for "Instructions to Authors"
Background: This material is "of, by, and for" the energy practitioner and has been created by a growing community of practitioners. Many of the submissions assume that you have access to and familiarity with Donna Eden's book, ENERGY MEDICINE, which can be accessed through www.innersource.net.
The papers are organized into the following categories:
Basic Principles
Energy Balancing Techniques
Energy Assessment Methods
Energy Psychology
Theory and Research
5 Elements
Radiant Circuits
Working with Specific Conditions
Office Practice
How to Teach a Class or Lead a Study Group
Marketing
Miscellaneous
To See All Articles: Click here to go to the Bank
To See Current Featured Articles: Click here
To See "Most Recently Posted" Articles: Click here
A list of the most recently posted articles; latest article at top of list.
To Submit a Paper: Click here for "Instructions to Authors"
Sign up for the Free Energy e-letter: Go here
Disclaimers: These materials are provided for informational purposes only. They should not be used as a substitute for professional consultation or treatment. The views expressed represent the authors' opinions and do not necessarily reflect the position of the Energy Medicine Institute. While all documents are posted in good faith, the accuracy, validity, effectiveness, completeness, or usefulness of any information herein, as with any publication, cannot be guaranteed. The Energy Medicine Institute accepts no responsibility or liability for the use or misuse of the information provided here. We strongly advise that you seek professional advice as appropriate before making any health decisions.
Handout Bank:  About the Bank All Articles  Featured Articles  Latest Articles  Submit an Article
Home   Handout Bank   Energy Medicine Q & A's   Energy Community Report
Contribute to the Energy Medicine Institute    Energy Psychology
---

The Energy Medicine Institute
777 East Main Street  –  Ashland, OR 97520
(541) 482-1800
* ]]> *
www.energymed.org
Design, Development, Hosting, and Maintenance by The CyberSide & Co.
All contents copyright © The Energy Medicine Institute, 2001-2017. All rights reserved.